Our Services
Trust all of your boat care and storage needs to Osborne's Marine
From boat retrieval, wrapping, repairs and storage to boat launch in the spring, Osborne's is dedicated to making your boating experience as easy and carefree as possible.

Osborne's Marine has more than 40 years of experience in the Marine Service Industry. We hope you will join us and appreciate the atmosphere of a small family business.
1
Spring
Ready to launch?
We will make sure that you are ready to enjoy the season. Unwrapping, tune-up services, electrical systems check, safety check, crane/sailboat launching service, boat detailing, and many more.
2
Summer
Emergency Towing Service
Full service on and off the water. After hours emergency services.
We will keep your boat running so you can enjoy all that the Lake Sunapee Region has to offer.
3
Fall & Winter
Retrieval, Winterizing, Wrapping, & Storage
Time to take that extra care and make sure your boat is ready to hunker down for the season.
We will take the time and do it right!
Services Overview

Outboard Motors

We service & repair all makes and models. Whether it is small, large, new, or antique.
Full service repair, inspections, tune-ups, and winterization.

Inboard & Inboard/Outboard.

We are proud to offer everything from routine maintenance and care, to full diagnostics, lower unit inspections, bellows and gimball housing service, and everything in between.
We service all kinds of boats including: pontoon, runabout, fishing and jet skis. Just ask and we'll be happy to help.

Shrink Wrap & Storage
We shrink Boats, Jet Skis, Sailboats, R.V.'s both on and off-site.

Large storage area suitable for storing motorhomes, large boats, trailers, campers, and other recreational vehicles.
Storage is available during summer months as well.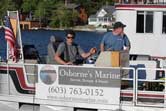 On the water service

Dockside & on mooring service calls, spring delivery, fall retrieval, we do it all!
Emergency on the water service including boat tow service and sunken boat retrieval.
After hours emergency response & towing.