About Us -Winter Hours: M-F 8:00-5:00. Sat 9:00-2:00, Sunday - by appointment only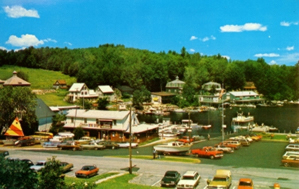 The Original Osborne's Garage & Marine
From the 1920's - 1988 the Osborne family ran their marine business out of Sunapee Harbor. They specialized in Glastron and Silverline Boats, Old Town and Mansfield Canoes, Sunfish Sailboats and Johnson Motors. Along with full service and sales, you could rent boats as well. The original Marine business was located in what is now the Lake Sunapee Historical Society. The business was then moved across the street and that building is now owned by Sunapee Harbor Riverway and Harborside Trading Company is now in residence. In 1988 The family sold Osborne's Garage & Marine but the family stayed in Sunapee and continued to be involved in many ways with the boating community.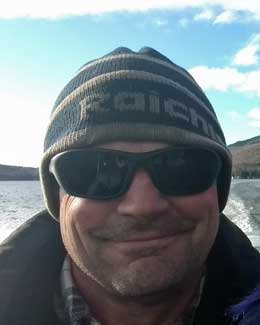 Osborne's Marine LLC now.
In 2007, Richard Osborne re-opened Osborne's Marine. He saw an opportunity to work side by side with his father again doing something that they both loved. Starting out small and on a part-time basis, Osborne's Marine began to grow. Sadly in 2010 Artie Osborne passed away, but the knowledge that he passed on to his son lives on.
By 2013 the business really started to take off and it became clear that this was more than a part-time job. A change in direction was needed and improvements began at our shop. In the winter of 2013 Charleen Osborne took on the task of training for custom canvas work. Spring and Summer of 2014 brought on even more changes to our service shop and the completion of the canvas shop. By the fall of 2014 we hired on another full time employee and made plans to add another service to our growing list....Heavy Equipment, Truck, & Auto Repair and vehicle inspection station.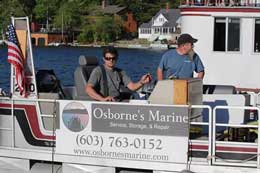 Epanded Services
Not only do we provide full marine service on and off the water, we also provide emergency towing, after hours emergency & sunken boat retrieval service. We offer a full service canvas shop, and heavy truck, auto & equipment repair, along with a vehicle inspection station.
We now run 3 businesses from our convenient Route 11 location: Osborne's Marine LLC, Hillside Truck & Auto, and Stitch Witch Canvas.
Company News

Follow Us
Check out what is happening around Lake Sunapee. We also share important Lake updates and Lake Sunapee conditions.

Follow Us
Find out what Pete is up to in the service shop!

Follow Us
See what fun projects Charleen is working on and learn valuable tips along the way.